Posted by Ardyce on 15th October 2012
Join us at the Pember Library on October 18 at 6:00 PM as Michelle Yauger talks about the book she wrote about the World War II soldiers from Granville and the story of the clock honoring those soldiers.
Refreshments will be provided by our friends from the Slate Valley Museum.
————————————————————————————————————————————-
A clock is only an object. And like any object, it holds no meaning until we give it one. We Gave Our Best: A Small Town Honors Its Veterans begins as a story about what a clock came to mean to a community at three distinct moments in its history. In 1892, the citizens of Granville, New York, voted to purchase a tower clock and install it on their Main Street. For Granville, and for many towns across the United States in the late 1800s, the clock symbolized changes in their way of life and the growth of a new, bustling economy based on industry.
In 1943, that meaning changed. After a fire destroyed the first clock, the people of Granville came together to dedicate a new one as a memorial to its hundreds of young men and women serving in World War II. With materials and money in short supply, fundraising for the purchase took the full effort of the community. When the clock was installed on Main Street, its inscription read, "Lest We Forget Those Who Served."
 Along with these historical details, We Gave Our Best also provides rare insight into the lives of the 32 Granville men who died in service to their country during World War II, as well as stories of those who survived POW camps, witnessed the D-Day invasion of Europe, and participated in special missions that were never widely publicized.
Several decades after the war ended, the clock fell into disrepair and eventually stopped working entirely. Sixty years after the D-Day invasion, Granville resident John Freed joined his father, a World War II veteran, on a trip to the beaches and cemeteries at Normandy, France. John was so moved by the sacrifices of his father's generation that he took on the challenge of refurbishing the broken clock and restoring it as a monument to the community's veterans. As he did so, his friends and neighbors were likewise inspired to reconnect to their past and each other as they celebrated the return of their town's most important icon.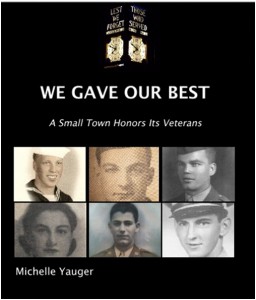 We Gave Our Best describes life in Granville from the late 1800s through 2010 with text and more than 160 photographs, and gives dimension to the lives of some of Granville's World War II veterans, particularly the 32 who died in service. It also tells the story of how one man's vision reignited his town's determination to honor its veterans.
Michelle Yauger is a freelance writer and blogger. Her short story "Father's  Day" received the Martindale Literary Prize for Short Fiction and was anthologized in Kaleidoscope (Pima Press, 2007). Michelle published a book on her family history entitled The Barringtons in 2010 and posts regularly to her blog, "Figment of My Cogitation." Excerpts from We Gave Our Best can be found at (http://figmentofcogitation.wordpress.com).
Michelle grew up on her family's farm in South Granville until moving to Arizona in 1973. She currently lives and writes in southern Arizona in the company of her husband, four grown children, and two excellent dogs.
Posted in Books, Events | No Comments »