A brief introduction to items available in our Local History Collection. For assistance, please ask at the library desk.The local history collection includes books, pamphlets, maps, clippings, and brochures of local historical interest. The primary focus is Granville but there are some historical materials about other towns in Washington County, NY and various Vermont communities. These materials are available for onsite use by any patron or researcher looking for information about the community or searching for ancestors who lived locally.
Some of these cabinets have recently been re-arranged so the list below is not quite accurate. We will be happy to help you locate the materials you need. Our staff is not large enough to be able to do research for you, but we will be glad to recommend local people who will. Photocopies are $.15 per page. You are welcome to take digital photographs of older items to minimize handling.
Our microfilm reader does not provide printouts.
We have an index of Granville Sentinel obituaries from 1932 to present to help in research. There are many more years of microfilm left to be indexed and we are always looking for volunteers to help with the project, either scanning and extracting the obituaries or typing the data into our computer program. Ask at the desk if you would like to see this index.
CABINET 1
Historical tales of Adirondacks and Vermont
Godey's Lady's Book
North Granville Quarterly
Religion
Freemasonry
Story of the Records (DAR)
Rails Along the Battenkill
Erie Canal
Child's Life in Colonial Days
Customs, Fashions of Old New England
Early School Books
Jukes Family
Nam Family
Pember Museum
Asa Fitch Entomology
1867 Albany Fire Dept
Agriculture
Mettowee Cook Book
Railroad Stations
Slate Roof Bible
Poems and Essays
Wales
Vermont
Tales of the Adirondacks
Washington County Gazeteer and Directories
ON REFERENCE SHELVES
Newspaper Clippings of Pember Library Events and Happenings
Sleeper News 1995 – 2006
American Genealogists
RED BINDER

Local History Finding Aids
Index for two volumes of the Hughes/Jones collection housed at the Slate Valley Museum and the Slate Museum in Wales. The collection at present is about 400 pages. They are translations from Y Drych and other Welsh language publications pertaining to people and events of the New York – Vermont Slate Valley.  The translations are by Iwan Hughes and compiled by John A Jones of Middle Granville who also has the original and additional material for a not-yet-completed third volume.

Index of Families found in Local History Books
Index of Folders found in DAR boxes
Pember Notes (above photo albums)
Genealogy Name File Box –letters found in expanding file
Nine Photo Albums (contents listed on individual albums)
Index to Morris Rote-Rosen Sentinel Articles
CABINET 2
Granville Business Directories
Adirondack travels
Gazetteer – State of New York
Historical Guide to the City of New York
Biographies, Genealogies, Cemetery Records, Vital Records
History of Surrounding Area
CABINET 3
General History of Surrounding Areas and Towns
CABINETS 4, 5, & 6
Boxes 1-18
Boxes 19-30
Boxes 31-42, 44, 47-48

SEE RED BINDER for contents

Atlases:

Washington County
Rutland County
Bennington County

Maps:

Granville
Washington County

Box 43 – Maps:Washington County, Pawlet
Box 45 & 46– Slate Industry
Box 50 – Sentinels: 4/17/1885; 12/26/1902; 1/23/1903; 8/12/1904; 1/19/1906; 10/16/1908; 8/20/1909; 2/18/1910; 4/21/1911
Box 51 – Sentinels: 1900 – 1914; 1908- 1976 select reproductions
History of Washington County
1737 – 1878
Box P1 – Rote-Rosen oversize pictures
Box P2 – Edwards Collection
Box P3 – LH Collection 1976
Box 48 – Pember Envelopes
Box 49 – Miscellaneous Letters
Box 52 – D-Day Programs
Town Survey (1 box)
Village Survey (2boxes)
7 Tapes – Granville Ethnic Arts Program
2 Scrapbooks (originals) Morris Rote-Rosen Photo Collection
Cornell Rural School Leaflet (folder)
Hampton Election Results 1862
General School Law 1866
3rd Report of Commissioners on Practice and Pleadings 1849
Champions – Golden Hoard (folder) 1930
Photos of Library Programs and events (envelope)
Pember Family Tree
Photos – unnamed photos (bag)
1918 – State of Vermont – Board of Control
Newspaper clippings – notable people in Granville
CABINET 7
Microfilm
Granville Record Book 1787-1826
Census Rolls 1825-1925
Morris Rote-Rosen 1920-1922,       1935-1984
Granville Sentinel 1875-2003

MISSING: 1878-1885, 1901-1913

Granville High School Yearbooks Blue and Gold 1948—2013 (missing: 1954, 2001, 2004)
These are shelved in the reference area.
Maps available:
Reproduction of an 1853 map of Washington County.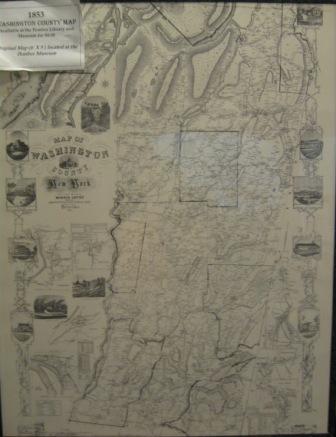 Reproduction of an 1894 map of the village of Granville.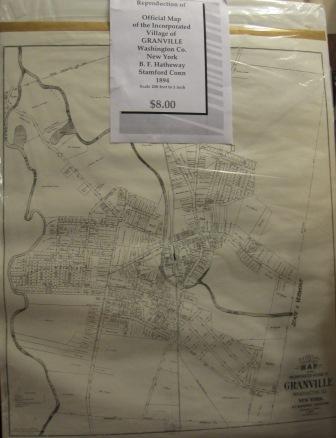 Contact us for details and purchase information.