Friends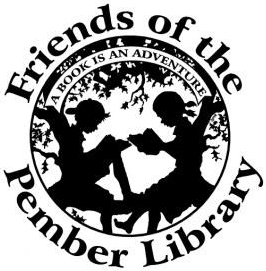 The non-profit Friends of the Pember Library is a service organization composed of volunteers. The purpose of the Friends is to acquaint the community with the library's resources and services, to provide assistance with various programs and activities, and to raise funds to help the library with the purchase of items outside the library's budget.  Please join! Annual dues are payable in November. Forms will  be mailed out or you can pick one up at the library.
Some purchases made with funds provided by the Friends:
extra tables
book cases and display racks
air conditioner
seasonal decorations
computer and monitor
large print books
videos
special programs
HeritageQuest subscription for 2011-12
eBooks
Volunteer opportunities through the Friends:
assist at the annual book sale in July
bake for the Holiday Open House
make phone calls
donate money
help with the Junior Friends group
deliver books through our Books on Wheels program
Friends of the Pember Library Book Sale:
March paperback sale
We hope to have another similar sale March 2013.
Bring home a wagon load of books at great prices. There will be paperbacks, videos (mostly VHS), and audiobooks (mostly cassette) at this sale. Low, low prices. The sale will run from 10 AM-2 PM with a $1/bag sale from 1 PM-2 PM.
 Annual Sale
We will happily accept donations at the library anytime during the year. Please call ahead (642-2525) if you are bringing in a large amount of donations.
Friends Notecards:
These note cards based on a watercolor by Ben Barker are available at the library desk.