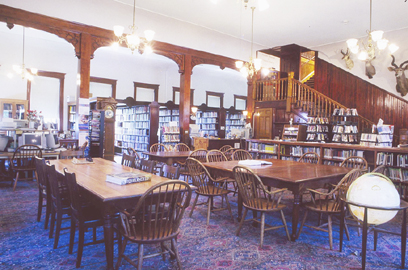 Pember Library photo by George Bouret
We have active volunteers who help each week in the library. They read to the children, shelve books, stamp date cards, read shelves, help patrons, deliver books to home-bound people, and present special programs. They also help with clerical work and moving books and magazines to storage. If you have a few hours a month and would like to volunteer on a regular basis, come in to the library and talk with us about how you might help.
We are currently working on indexing the obituaries from the Granville Sentinel. Working backward, we have completed the index to 1898. Any help with this project will be greatly appreciated.  See the Local History page for more information.
Other ways you can help:
read for story hour
gather craft materials for story hours
shelve books
repair items
provide reviews of books you have read to be shared with library patrons or added to the blog
read shelves (place items in correct Dewey Decimal order and check for out-of-order items)
face shelves (straighten books on shelves by bringing them to the front of shelves and tightening the book ends)
find books and set up for monthly themes
be a parent adviser for the Teen Book Club
put newspaper items and event advertising in the library scrapbook
Books on Wheels:
This service is provided by the Friends of the Pember Library. Homebound patrons may request items to be delivered to them. It is limited to residents of the Village or Town of Granville unable to get to the library due to illness, disability, lack of transportation, or childcare issues.
For information,
call the Pember Library
at: (518) 642-2525.