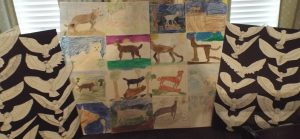 65 Owls, 70 Bobcats, Moose Crossing Jazz at Pember First Friday
135 renderings of owl and bobcat will be on display for June First Friday at the Pember Library and Museum in Granville, NY. Works on paper by the third and sixth graders of Granville Elementary School will be featured at the show.
Moose Crossing, Poultney's hottest jazz band will be back for First Friday. Zak Hampton on sax, Tim Duch on piano, and Johnny Reiter on bass will rock the night with bop and swing.
Be sure to check the specials of the many Main Street businesses that will be staying open late for First Friday.
First Friday is June 2, from 7:00 p.m. to 9:00 p.m. Admission is free.