Posted by Ardyce on 23rd April 2009
Please join us at the Pember Library for a new discussion group. Coffee, tea and cookies will be available for participants.
Those who come to our first discussion group will be able to decide when and how often they want to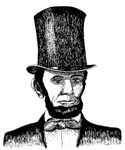 meet and what topic(s) they would like to talk about.
Our first discussion will focus on Abraham Lincoln since 2009 marks 200 years since his birth. I will have several Lincoln books available before the group meets and we can request additional books after the meeting for those who want to read more.
Posted in Books, Community, Events | No Comments »