Calling All Zombies, Vampires and Ghouls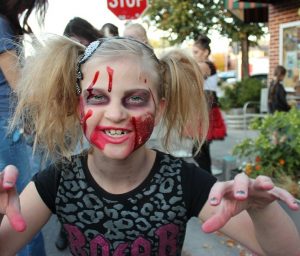 Halloween Party at the Pember
Monster Mash at the Slate Valley Museum
8PM Zombie Walk down Main Street to the SVMThe night air is getting chillier and Halloween is just around the corner…The Pember Library and Museum and the Slate Valley Museum are teaming up again, this time to host their Fourth Annual Halloween Party and Zombie Walk. ZOMBIE WALK IV will take place during the October First Friday event, October 6, from 7 to 9 pm at both museums.
"Last year's Zombie Walk was a tremendous hit, with over 500 people turning out," said Krista Rupe, Slate Valley Museum Executive Director and Zombie Queen . "We're aiming for a million Zombies to emerge this year. The Slate valley Museum will host them all at our Grand Monster Mash Zombie Ball. There will also be Halloween art, special music, treats, creepy décor and other terrifying surprises to die for."
At the Pember, mayhem will prevail from 7 to 8 PM, with ghouls overrunning the building to live music – both inside and on the front lawn. Stephen Havel, Mark Catman and Cole Kitz will be playing the strange and weird to satisfy ghoulish cravings. Of course Zombie cuisine such as "finger" sandwiches, jelly eyeballs, bloody punch, and other delicacies of the undead will be provided. Make-up stations will be available to help everyone look his worst.
"Zombies are the future. We know you are out there and we welcome you!" says Pember Field Commander Sparkle Head G. "This is your night and we are honored to serve you."
"Halloween, originated from Ireland. Immigrant children would decorate their faces with soot and dress up to scare the new arrivals to the neighborhood." said Molly Biggs Celani SVM Board President.
Festivities begin at 7pm inside and in front of the Pember, culminating in the 8pm walk down Main and River Streets to the extravaganza of the undead at the Slate Valley Museum.
First Friday is always free.