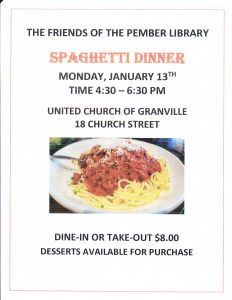 TO BENEFIT THE FRIENDS OF THE PEMBER LIBRARY
Please join The Friends of the Pember Library on Monday, January 13, for a spaghetti dinner at the United Church of Granville located at 18 Church Street. The dinner is available beginning at 4:30 PM until 6:30 PM or until sold out. You can dine in or take-out. The menu includes spaghetti with meat sauce, salad, and a roll for the cost of $8.00. Homemade desserts will be available for purchase.
Parking is available in the lot across the street from the church. Thanks to the United Church for the donation of the space.
The Friends of the Pember Library is a volunteer organization whose purpose is to acquaint Granville and surrounding communities with the library's high-quality resources and services. They raise funds through book sales and other activities to help purchase items outside the library's regular budget.
This will be the only fundraiser for the Friends this season. Mark your calendar for this event to support one of Granville's great historic assets.