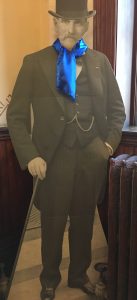 FLAT FRANK made his debut at the annual dinner September 25, 2017.
Franklin Pember was a businessman in Granville in the early 20th century. He was an entrepreneur, naturalist and philanthropist. He founded the Pember Library and Museum of Natural History. Pember also constructed the Pember Opera House and provided land for the community sewer systems.
Granville has continued to grow in the last century. To help the people of Granville and surrounding areas learn more about our community, we have created "Flat Frank".
"Flat Frank" will visit different places in Granville and learn about businesses and other places of interest in the area. "Flat Frank" can visit with you for a week or so and you can photograph him doing whatever it is you do and help him answer a (small) series of questions. The photos and information will be added to a web page or FaceBook page (yet to be created). We can create a space in the library with pictures of those who participate in the "Flat Frank" project.
We hope that "Flat Frank" will visit the town and village offices, some of the slate companies, have lunch at local restaurants or a drink in the pub. He can visit a doctor's office, attend churches, camp out with the scouts, and attend Rotary trivia night. Maybe he can go to the grand opening of a new restaurant or the brewery on Main Street. There is plenty going on in the Granville area to keep him busy.
Let us know if you would like "Flat Frank" to visit with you.