Zombie Walk at the Pember Library / Slate Valley Museum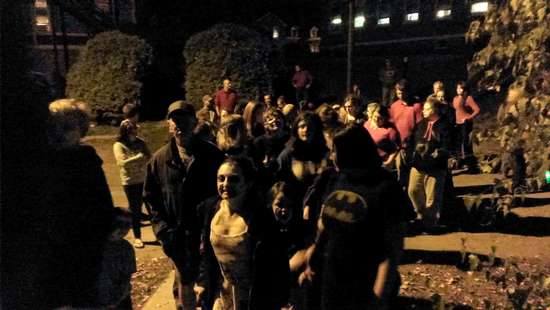 Calling all ghouls! Halloween is approaching and the Pember Library and Museum and the Slate Valley Museum are teaming up for pre-Halloween fun. Zombie Fest takes place on First Friday, October 4, from 7 to 9 pm at both museums. Zombie Walk VI assembles at the Pember for the 8 pm march to the Slate Valley Museum.
"We expect a large Zombie mob this year," said Mary King, Pember board president. "And we are prepared to feed and rally them for the 8 o'clock Walk and invasion of the Slate Valley Museum."
Both museums are planning organized events this year, with activities, crafts, treats, costume judging, prizes and surprises! The Pember will provide "Wormy Dogs on a bun," "Jelly Eyeballs," "Bloody Punch," "Spider Peanut Butter Cup Cookies," and "Meaty Lady Fingers" for hungry ghouls, along with make up stations and Zombie Rock to wake the dead for the Zombie Parade down Main Street to the SVM, where the party will continue with crafts, a costume contest, and more goodies!
Festivities start at 7 pm and everything is FREE!