Fun and Finance Collide at the Pember Library
The kids yell and point as Brad Zupp attempts to keep eight plates spinning on top of poles. Running from plate to plate, he illustrates, in a way kids can easily understand, the financial concept of needs versus wants. "Kids love learning about how to be smart with money," Zupp says. A former clown with Ringling Brothers and Barnum and Bailey Circus and former financial planner, he devised a 45 minute program that teaches personal finance to students in grades K-6. "But it's not a boring lecture," he adds. "Every concept is explained and made entertaining with comedy, magic, lots of audience participation, and circus skills like plate spinning and juggling." Since the kids are being entertained while learning, they are more likely to both grasp and retain the lessons, he says.
Brad Zupp will bring to life financial concepts like the importance of saving, budgeting, needs versus wants, living within your means and more during his performance of "FUNance For Kids – Where Fun and Finance Collide" at 6:30 PM Thursday, February 26 in the main  room of the Pember Library.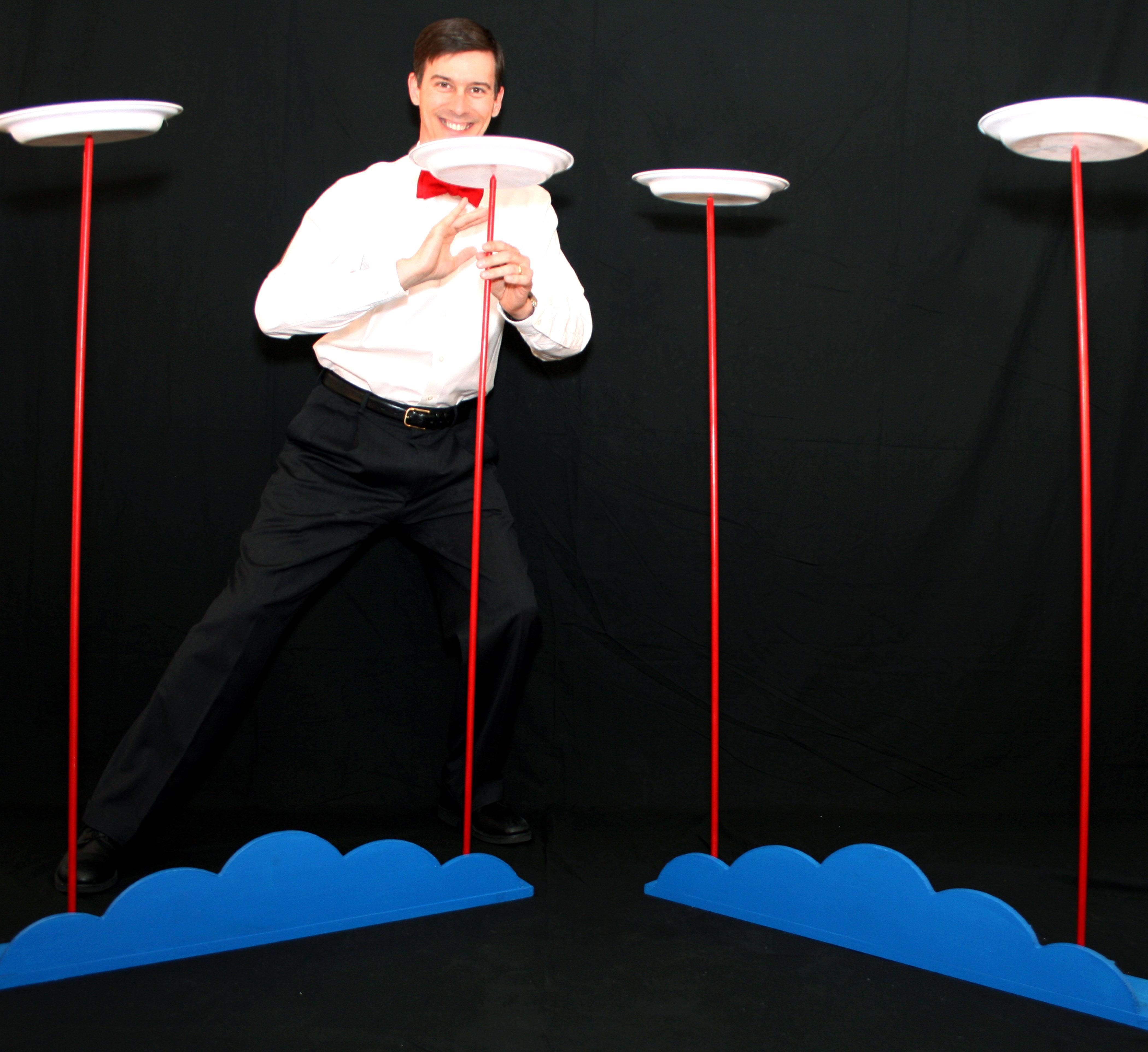 At age 17, Zupp was one of the youngest people ever to attend Ringling Brothers and Barnum and Bailey Circus Clown College. After graduating, he spent two years touring with The Greatest Show On Earth. Since then, he has performed for over twenty years, on cruise ships and theme parks around the world, as well as at hundreds of schools and libraries. He also worked for three years with A.G. Edwards and Sons as a financial planner, helping people plan and prepare for their retirement years. "I found that there was a real lack of knowledge about basic personal finance," he says, even among retirees and pre-retirees. "I realized that my skills as a performer and a financial planner were pretty unique, and could be combined to help the next generation better prepare for their financial future." Zupp left the comfort of the office for the challenge of entertaining kids while teaching them important – and abstract – financial concepts. "Standing in front of hundreds of kids with the responsibility to make sure they learn how to be smart with money, but without boring them, is a challenge I love."
This performance is part of the Pember Library's Pember Presents Program, which will bring a variety of local and regional guests to the Pember and provide educational and cultural programs for the residents of Granville and the surrounding area.
The February 26 performance by Brad Zupp is intended for children in kindergarten through sixth grades and their families, and is sponsored by the Pember Library and a grant from the Leo Cox Beach Foundation. If you or your children need special accommodations to attend the performance, please contact the library at 518 642-2525.