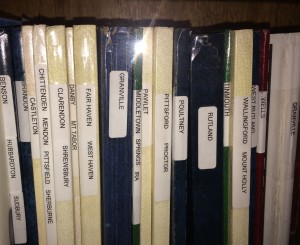 Join us at the Pember Library, 33 West Main St, Granville, on Monday, March 24 at 6:30 PM for a meeting of the Granville Historical Society. There will be light refreshments.
Starting at 7:00 PM, Peggy Jenks will give a talk and slide show about Grandparents and Gravestones, using cemetery stones as part of your genealogical research.
Peggy has been a family genealogist since 1964 and a cemetery transcriber since 1978. She has published award-winning books listing all the cemetery inscriptions of the twenty-seven towns in Rutland County, Vermont, and of Granville, Washington County, New York…over 225 cemeteries in all. Peggy's other publications include several volumes of probate records and family histories.