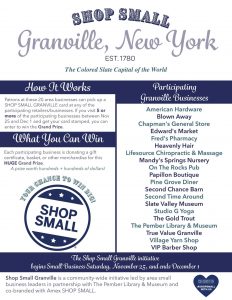 Love supporting your locally-owned shops and small businesses? Then you'll want to hear about this!
Beginning on Small Business Saturday – Saturday, November 25 – you'll be able to participate in a SHOP SMALL GRANVILLE initiative and be eligible to win a HUGE Grand Prize.
HOW IT WORKS
Patrons at the following area businesses can pick up a SHOP SMALL GRANVILLE card at any of the retailers/businesses. If you visit 5 or more of the participating businesses between Nov 25 and Dec 1 and get your card stamped, you can enter to win the Grand Prize.
participating businesses:
-AMERICAN HARDWARE
-BLOWN AWAY
-CHAPMAN'S GENERAL STORE
-EDWARDS MARKET
-FRED'S PHARMACY
-GRANVILLE TRUE VALUE HARDWARE
-HEAVENLY HAIR
-LIFESOURCE CHIROPRACTIC
-MANDY'S SPRING NURSERY
-ON THE ROCKS PUB
-PAPILLON BOUTIQUE
-PINE GROVE DINER
-SECOND CHANCE BARN
-SECOND TIME AROUND
-SLATE VALLEY MUSEUM
-STUDIO G YOGA
-THE GOLD TROUT
-THE PEMBER LIBRARY
-VILLAGE YARN SHOP
-VIP BARBER SHOP
[Don't see your locally-owned business name on this list? Email mettaweevalleymarketing@gmail.com to find out more.]
WHAT YOU WILL WIN
Each participating business is donating a gift certificate, basket, or other merchandise for this HUGE Grand Prize. We are still collecting goodies but it's already a prize worth several hundred dollars!
……………………..……………………..……………………..……………………...
Shop Small Granville is a community-wide initiative led by area small business leaders in partnership with The Pember Library & Museum and co-branded with Amex SHOP SMALL.