Posted by Ardyce on 3rd September 2014
September 21, 2014
2:00 pm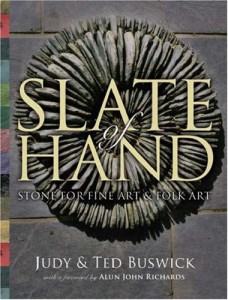 Join us at the Pember Library September 21 at 2:00 PM for The Magic of Slate. Images of slate art from around the world will be featured in this Power Point presentation, as will some actual examples collected by authors Judy Buswick and the late Ted Buswick. Though solid and easily split, slate can be fashioned so that it appears fluid and delicate. In many ways slate stands the test of time and provides artists with a remarkable medium.
When Massachusetts writers Judy and Ted Buswick started researching how ordinary slate was used in artwork, they found more than they'd expected. Years ago, Judy painted on slate roofing shingles and the couple had admired beautifully carved slate gravestones near their home. But who knew that international artists were using slate to make jewelry, wall friezes in the European Union Council Building, outdoor figures of stacked slate, or land art installed from Australia to Scotland?
The Buswicks' book titled Slate of Hand: Stone for Fine Art & Folk Art includes works handcrafted by quarrymen in Maine, Pennsylvania, Vermont, and North Wales, as well as the fine arts of celebrity sculptors Richard Long, Andy Goldsworthy, and Phillip King and renowned stone carver Nicholas Benson of the John Stevens Shop.
Ted and Judy spent three years interviewing artists who live in the slate quarrying areas in Wales, Cornwall, Canada, and eastern seaboard states from Maine to Virginia. Research continued with museum curators at Barbara Hepworth's home and studio in St Ives (Cornwall) and Isamu Noguchi's Garden Museum in Long Island City. Then Scotland's Andy Goldsworthy opened his impressive "Roof" exhibit of domed Virginia slate at the National Gallery of Art in Washington, DC.
The Buswicks couldn't have been happier. "We had a wonderful time meeting artists, but also learning about quarrying in Wales, Maine, New York/Vermont, and Pennsylvania," says Judy Buswick. "We saw creativity at its best."
"We know people expect there's not much to talk about when slate is the topic, but the art work we found goes from wafer thin to monumental in size, spans a range of color, and presents both polished surfaces and riven textures." Whether museum installations or decorations on a hearth, slate has inspired artists around the globe.
The Magic of Slate is presented in conjunction with the Slate Valley Museum's Slate as Muse National Art Exhibition which runs from June 6 to November 7, 2014. Nineteen artists from throughout the U.S. offer innovative reflections on slate not only in sculpture, but also in painting, photography and mixed media. Nicholas Benson, featured in the Buswick's book, created a work of art especially for the Slate as Muse exhibition.
This project is made possible with funds from the Decentralization Program, a regrant program of the New York State Council on the Arts with the support of Governor Andrew Cuomo and the New York State Legislature and administered by Lower Adirondack Regional Arts Council.
Posted in Events | No Comments »